amy goodman pleased with 2011 Bama debut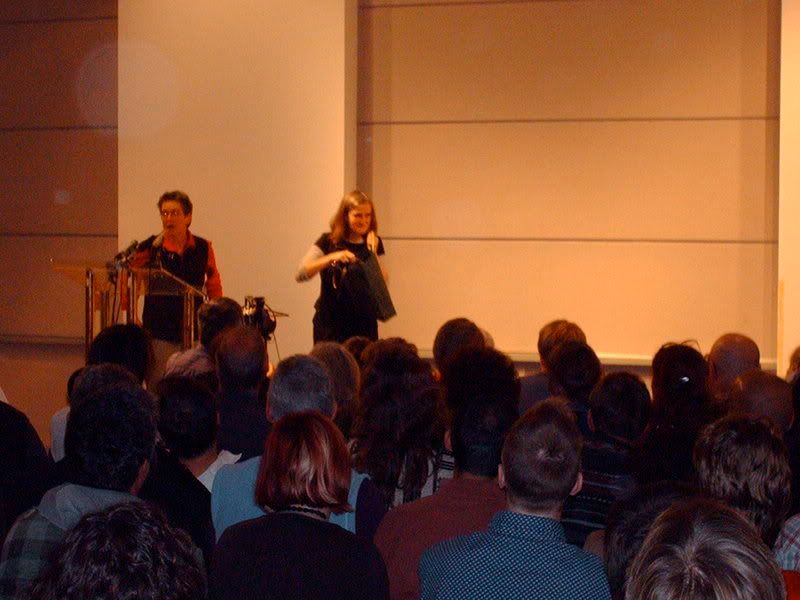 The 2011 season got off to a good start as #12 Alabama easily beat a decent UAB squad(who was predicted to win CUSA) by a score of 45-13. However the year did not begin without its fair share of controversies. Despite two oustanding seasons as the starter at RB, New Hampshire native Steve Ferguson lost his job to ex-buckeye Josh Reese. The troubled transfer was kicked out of Ohio St after he
allegedly got into an argument
with Greg Oden over who their favorite Bluejackets were. Another high profile issue was the decision to start JUCO athlete Stephen Schilcher over 5 star SS FR Chris Christian, who was the #1 SS out of high school. Not only is Schilcher the first
Saxon
in the Namath era to start in the Tide secondary, he also has ties with the
Schilcher wine Dynasty
(family, not football) in Austria.
Amy Goodman
(pictured above leaving a lecture to catch the UAB / Bama game) recently spoke out against the decisions on her radio show
Democracy Now
, but later changed her mind. Stolenbike Dynasty caught up with her after the UAB game, over sunday brunch to find out why.

Stolenbikedynasty: Morning Amy, you look good today

Amy Goodman: Stop it! I've been reading your blog for years and frankly, I find it quite misogynistic.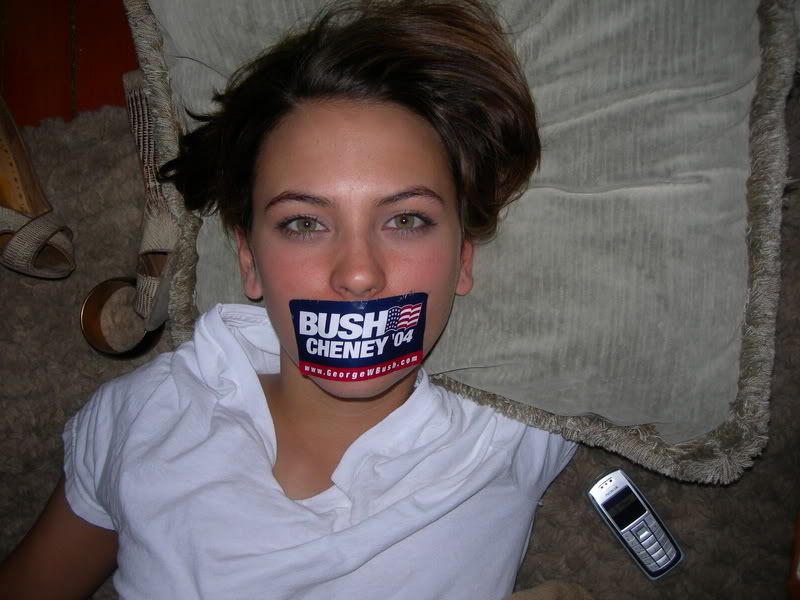 SBD: Misogyny? Who me? So I taped a Bush Cheney sticker over my friend's mouth one time. I mean she kept on going on and on about suffrage. And after only one game of drinking Jenga too!

AG: Especially in times like these where we have a female president (SB note: interview takes place in 2011) I can't believe people like you are still given a voice. Its no where near as good as Riverdale Palm Trees

SBD: I'm hurt

AG: Good

SBD: So what you doing tonight, hahaha just kidding. So Ms. Goodman how long have you been a Crimson Tide fan?

AG: I found sport and the nation's obsession with it, to be one of the main things wrong with America today, but I have a story of when.........

SBD: zzzzzzzzzzzzzzzz. Oh sorry. Did you say something? Dozed off there. Its just that there's this radio show I listen to where this lady always starts off her tirades with "I have a story" and then she goes on and on, until....

(AG gives a dirty unimpressed look)

SBD: Oh I'm sorry. Hahahaha. That was joke. Its me being funny

AG: Okay I get the point. Just post this video of when USC played Alabama, which essentially led to the desegregation of the Crimson Tide program.



(after watching the video, AG and SBD both in tears and giving each other warm embraces)

SBD: Ya what's Brown vs. Board got on Cunningham running all over the Tide. (wipes away the tears) Anyways I understand that you had a problem over Coach Namath's recent decisions to start Josh Reese and Stephen Schilcher.


AG: Well with the Reese situation I was only concerned with his social well being. Its like he left Iraq only to be put in North Korea.

SBD: Whoa thats a harsh analogy. So youre saying the Big 10 is Iraq and the SEC is North Korea?

AG: You're twisting my words

SBD: Kim does have cool shades though

(AG rolls her eyes)

SBD: But youre fine with Reese now.

AG: He did run for 3 touchdowns in his Crimson Tide debut. I'm pretty sure his stay in Los Angeles helped him a lot. See we should look at Josh's case and apply that to the American penal system. Rehabilitation, not punishment, should be the main focus.

SBD: Exactly. And your problem with Schilcher?

AG: For the last five years Coach Namath has placed an emphasis on speed, and here we have a white wealthy individual with a 4.46 40 time with ties to an Austrian wine aristocracy, starting over an African American kid...

SBD: African? I thought he was from South Carolina, not Senegal.

(AG gives dirty look again)

AG: Let me finish, here we have a South Carolina kid descended from slaves.....

SBD: Pyramids or Cotton

(AG is about to leave)

SBD: Okay I'm kidding, don't go

(AG decides to stay)


AG: Okay Chris Christian has a 4.31 40, why isn't he starting?

SBD: That's what you were upset about? But Schilcher sure can hit. His bench numbers are higher and he has two years experience at the JUCO level.

AG: Yes I know.

SBD: So what are you really mad about?

AG: I'm just not a fan of Austrian wine. I'm more of a Napa valley girl.

SBD: Ahh we should do a road trip some time.

AG: Not a chance.

SBD: Fine, last question, last night you were spotted at a Tuscaloosa hotel with Joe Namath and...

(AG cuts off my sentence)

AG: No comment, Democracy Now!
Anyways Josh Reese had one heck of debut rushing for 131 yard and 3 TDs. He also had 3 catches for 55 yards. Bad news as QB Chad Arnold sprained his elbow in an impressive 8-10 day with 219 yards and 2 TDs. He will be out for the 1st annual
South vs. Southwest
matchup in Tucson. JR Travis Spicer (saxon) will get his first start at QB. Amy Goodman's new book
"Static"
is in stores right now and she is currently doing a North American tour in support of several independent radio stations.