bama avoids upset, but loses egg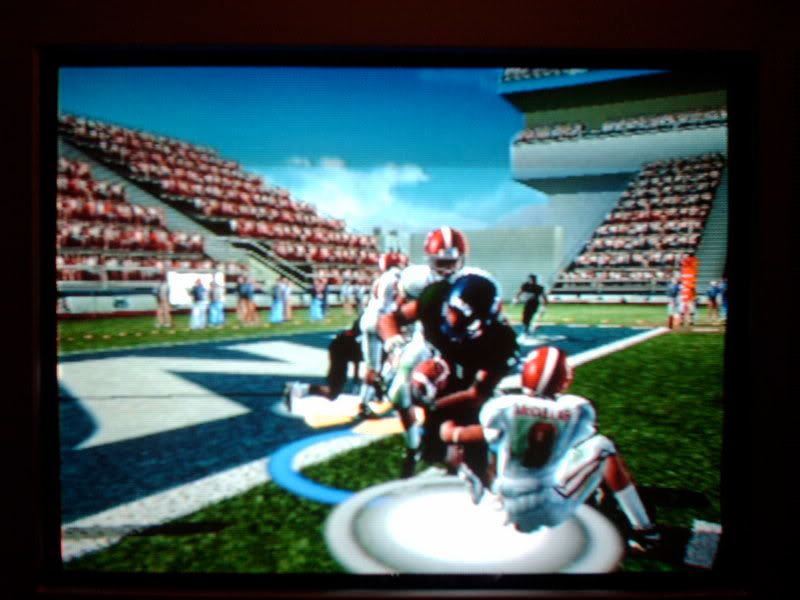 Sorry my photo is no where near the quality of coverage being proudced over at
Riverdale Palmtrees
, where CL's
ENTIRE
South vs. Southwest matchup is posted, but as Winston Churchill or Jesus once said,
"A picture tells 93 words"
. In this year's version of NCAA Football on PS2, controlling the momentum meter is perhaps the most important thing on Heisman. Late in the 3rd quarter with Bama was up 17-14, but momentum clearly in favor of the home Arizona squad, SO CB David McCullar (New Jersey native) prevented a Wildcats TD with a key tackle at the 1 yard line. After being nearly unstoppable the entire game, Arizona was forced to kick a field goal, but more important was that this tackle put momentum in favor of the Tide.
With the spread on aggregate for the 1st annual South vs. Southwest challenge set at 16.5 in favor of Alabama, the Crimson Tide underestimated the Stolenbike version of the Wildcat squad as Arizona led 14-9 at the half. Things were not helped when 3rd string QB SO Terrence Graves of San Antonio, was put into the game after Travis Spicer was injured. Graves was nervous as his first two series's (i don't know how to pluralize 'series') ended in interceptions. However Namath must've slapped him in the head at halftime, as he not only rushed for an important TD, but ran in for the 2 point conversion as well to put the Tide ahead 17-14. Then the aforementioned tackle occured and the Tide was unstoppable from there. Along with his 130 yards of rushing, Josh Reese ran in for what would be the game winning TD in a 31-17 victory. The Riverdale Palm Trees match went 30-27 in favor of the Wildcats making Arizona win on aggregate after factoring in the 16.5 point spread. Congrats this year, but the egg will be mine next.