Benedict Arnold; Lonelygirl15, & Bama still at 5-2
Okay, I'll admitt it. I did not play NCAA Football 07 for my PS2 for three whole days. I know I'm sorry. I apologize. Some Dynasty junkie I am. Apologies to all, but I would like to place blame on four things.
1. Work
2.
Sazeracs
3. $1.50 pints and dancing the night away with
"experienced" women
4.
lonelygirl15
(we'll go into this later)
Since I haven't played a game since my last blog update, let's spend some time to get to know some of the players on the team. Now we all know that I love JUCO transfers, cuz they love football but hate high school academics. I went nuts the first year they put them in the game. So this year I've recruited several JUCOs but none rated high enough to crack my starting lineup. However in 2008 I signed
Ben Arnold
, a JCSOPH WR from a small town outside of Philly called
West Norriton
, Pennsylvania.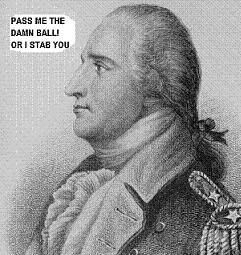 West Norriton's black population is only 6.1%, which is 5% points higher than Vancouver BC's black population. Now the game doesn't give H.S. history, but I am assuming that he dominated there until he transferred to a private school in Philly for his senior year. He had a standout year, but the star WR also learned in history class that he shared a similar name with America's biggest traitor, Hillary Clinton, uhh whoops I meant Benedict Arnold. Distressed by his findings, Ben attempted to stab his American History teacher. He spent time in prison and lost a chance at a scholarship to Penn St. Thus he spent a year in JUCO and dominated.
Namath, being from PA, decided to take a chance on this 4* WR with 4.39 speed, despite his small size 5'11 165 and 'Poor' Discipline rating which EA gave him. In 2008 Ben has overcome fumble problems and is #4 on the WR depth chart and returns Kickoffs. Ben has a 78 OVR rating. He has made key catches so far, as Bama has switched to Spread Offence. So far he has stayed out of trouble, so cheers to a good 3 years in Tuscaloosa.

Once again congrats to Landers for bridging the gap between East and West as he has a star muslim WR in Justin Abdullah and a muslim kicker who look poised to take the Wildcats to a national title.

As for lonelygirl15, who has one of the "most viewed channels" on youtube. Well looks like things with her and Daniel are going to be all right. Below was her peace offering. For more on her saga this is a good article. Go Joey go, uhh I meant lonelygirl!