bama seniors step up against LSU
First before discussing this match, take note of the fact that Alabama was going up against QB Michael Snyder of San Angelo, TX who in his career had passed over 10,000 yards and with 129 TDs, was 1 short of breaking the NCAA record (set by Colt McCoy in my Dynasty). Also take note of the classic matcups that LSU / Bama has produced
2006 LSU 24, BAMA 21
2007 LSU 24, BAMA 10
2008 BAMA 27, LSU 21
2009 BAMA 38, LSU 36
2010 LSU 28, BAMA 18
So on Senior day in Tuscaloosa, Michael Snyder did indeed achieve his record for career TDS, however no one in their right mind would have predicted the 42-10 onslaught. Sitting 3rd in the BCS Alabama had to make a statement against a decent #17 LSU squad. Even though Josh Reese finished with 110 yards and 2 TDs LSU did a great job against the run, he ran close to 40 times. But in his last game in Tuscaloosa, Coach Joe Namath instructed SR QB Chad Arnold to air it out.Demands from an unknown booster to give the ball more to SO TE Eric Goolsby, saw Bama's first points come in the form of TD pass to the Texas prep star, the first in his career. From then on Chad Arnold took over in a near perfect performance going 14-17 with 209 yards and 3 TDs. SR Joel Thompson caught 7 passes for 143 yards and 2 TDs, while the Bible /Choir singing DL combo of Parker, Saint Preux, Quinn and Bailey (all SRs, all groovin' baptists) stopped LSU's stud HB SO C.J. Oglethorpe and contained Snyder. Bama has now clinched the SEC West and will play Georgia for the SEC Championship. But first they will have to play in the Iron Bowl against Auburn (8-2), whose only losses are to Georgia and Florida.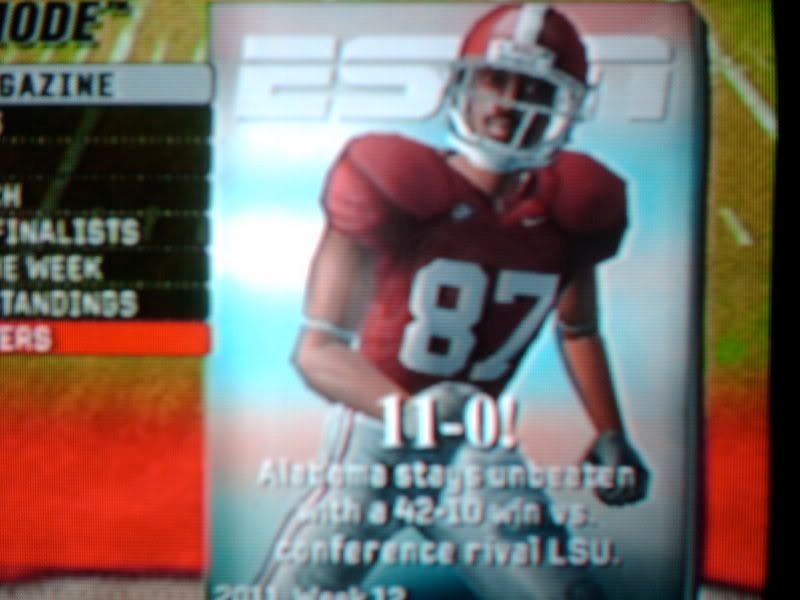 Joel Thompson on the cover of ESPN
Oklahoma is still at the top of the BCS with only Texas Tech and the BIG 12 title game, but Arizona St at #2 looks the most vulnerable with a match against #11 UCLA (who is undefeated), then USC, then rival Arizona. Hopefully the PAC 10 will help out Bama in their bid for the national title. Its hard to overlook the Iron Bowl, but bigger things look to be on the horizon.